Change of Management

Applegate Place Senior Living
Sutherlin, OR
Nestled in the heart of the Umpqua Valley, Applegate Place is where Sutherlin's elders retreat and retire to enjoy the fruits of their labor with friends and family. With management oversight and support from Hearth and Truss since 2020, this 30-apartment assisted living community has become a reliably great option through positive word of mouth, local on-site management, consistently high quality services, and stakeholder engagement. At Applegate Place our seniors find excellent, affordable care and our staff discover true employee-centered career opportunities.
Change of Management

Spring Meadows Assisted Living
St. Helens, OR
Spring Meadows Assisted Living is proud to have the unique distinction as a non-profit 501(c)3 organization. They are governed by a local group of talented and dedicated community leaders and citizens, driven to maintain affordability and quality in assisted living services in St. Helens, Oregon. Driven to serve, passionate about the local community and its local citizens, and committed to upholding a well regarded reputation for customer satisfaction, Spring Meadows is in a league of its own
Change of Management

Columbia Hills Retirement Center
St. Helens, OR
Columbia Hills Retirement Center is an affordable housing solution for seniors 62+, and features spacious studio and one bedroom apartments. The thirty-three apartment community is close to restaurants, shopping, banking, and public transportation. The community features a secure main entry and resident controlled building access.
New Construction, Assisted Living & Memory Care

Summer Place Assisted Living and Expressions
Portland, Oregon
Summerplace is located within an upper-middle class, planned retirement community. Most of the neighborhood is owner-occupied, single-family homes and until the assisted living opened, the only other housing option was a condominium complex on the border.  At a time when the concept of assisted living was still taking shape, Darcy was hired to assist with the pre-opening and operation of this flagship property.  While the homeowners were less than thrilled about having a 'care home next door', she spent a great deal of time educating people on the concept of community-based care.  Through this, Darcy and her team established a strong rapport within this neighborhood.  At 86 assisted and 16 memory care apartments, another challenge was creating an authentic homelike environment. Darcy assisted in recruiting and training staff, operational structure configuration, and all marketing and census-building activities.  These efforts ultimately created a vibrant and profitable senior living community.
 Operational Turnaround / Renovation

St. Andrews Memory Care
Portland, Oregon
Constructed in 1892 as a monastery and converted to a memory care in the mid-1980's, the Oregon Historic Registry now mandates the preservation of the exterior of this majestic structure.  Despite this added layer of regulation and oversight, by 2009 the interior had fallen into disrepair, which led to chronic occupancy and financial challenges.  Under a State-imposed stop-placement order and with census near 50% and mostly low-income, behaviorally challenged elders, Darcy assumed operation.  Shortly thereafter, Darcy coordinated a complete renovation and restoration project, obtained 98% stabilized occupancy with appropriately placed, private pay residents, and passed a State relicensing survey with zero deficiencies.
Located within the Portland-metro area, this highly competitive and highly visible property required an all-hands approach to marketing. Darcy and her team converted this 5-story diamond-in-the-rough into a true neighborhood hub.  St. Andrews offered complimentary a meeting space, month-long donation-based holiday concert series to raise money for the Alzheimer's Association, non-denominational church services, memorial services, and annual open-air, live concerts on the 2.5-acre green space.  Supplemental revenue was earned hosting weddings and other special events under the frescos in the chapel.
 New Construction, Independent Living / Hospitality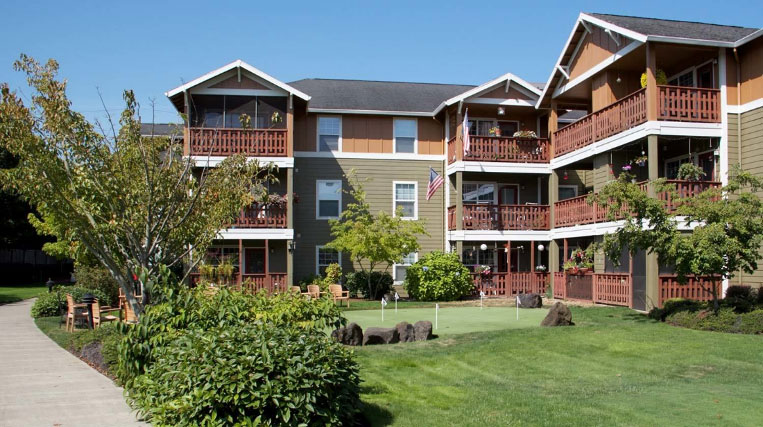 Springs at Clackamas Woods
Milwaukie, Oregon
Hired during construction of this 129-unit independent living community, Darcy assembled and led her team in all pre-opening, opening, and fill-up activities. This work included employee recruitment and training, marketing and advertising plan development and implementation, FF&E acquisition and placement, program creation and execution, special event planning and hosting, as well as pre-leasing and move-in coordination. Despite opening their doors on September 11, 2001, Darcy and her team went on to exceed all pro forma expectations for this project.
Situated in a middle-class suburb to Portland, The Springs at Clackamas Woods catered to an all private pay market accustomed to enhanced customer service and amenities. Defining value, well-trained staff, and a careful attention to the residents experience were cornerstones of success for this project.
Renovation / Level of Care Conversion / Market Reposition

Sterling Ridge
Las Vegas, Nevada
Darcy was brought on to reposition this asset from exclusively offering independent living to include assisted and memory care. This process involved the temporary and permanent relocation of the residents, redesign and reconstruction of the interior spaces, obtaining new licensing, a major market reposition, human resource development, and all census-building activities. The property now offers of 57 independent, 42 assisted, 52 memory care units.
Set within the urban landscape of Las Vegas, the resident population and workforce are extremely transient. This on-going challenge demands constant attention and reinvention of culture to flex to the ever-changing expectations of the stakeholders.
Large Start-Up / Reposition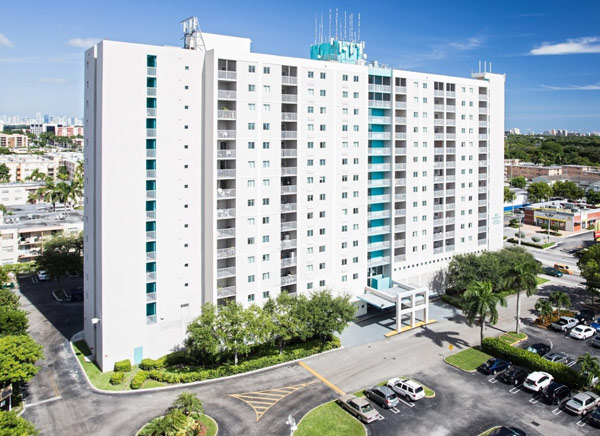 Residential Plaza at Blue Lagoon
Miami, FL
Initially an investor-owned and family-run project, this 14-story high-rise with 350-licensed beds and Assisted Living with Memory Care was completed in 1990. It is one of the country's largest assisted-living communities serving lower income Latino elders. Mauro's work ranged through support of initial start-up operations and marketing efforts, developing a memory care program and negotiating a Medicaid provider contract with a local insurance provider.
With non-profit ownership since 2002, recent efforts include board development and strategic management support. Mauro and his team led efforts to update the design and operation of an enhanced memory care program. They accomplished this by converting two floors to a smaller household model and engaging expert consultants to implement a Montessori-based, person-centered care program in 2014.
Mauro and the management team aim toward further building modernization, now focusing on securing needed financing to reposition the project to serve a mixed-income population in response to demographic changes and unsustainable Medicaid support. Short-term plans include leading a master planning process, developing construction and operating budgets and financing strategy development.
Development / Project Management
The Mustard Seed Project
Key Center, Washington
For this assisted living with memory care project for rural, mixed income elders, Mauro and his former team provided project management and development consulting to complete pre-development and pre-construction activities. They focused their efforts on site selection, assembling the development team, market research, operating and development budgets, project management, financing, capital campaign support, architectural design support and programming. More recent work involved supporting the development and implementation of a layered financing strategy tapping multiple public and private funding sources.
This small 30-unit single story-project is designed to operate as a Green House Project consisting of two 10-unit assisted living homes and one 10-unit memory care home. The anticipated groundbreaking is Spring 2021.